Back
The Best Restaurants in Jensen Beach, Florida
The best part of a getaway? Digging into an eating adventure. And, lucky for you, The Lucie serves as a perfectly positioned launch point to all of Jensen Beach's local flavor that will leave you pleasantly surprised and happily stuffed.
---
You may have come to Jensen Beach's Hutchinson Island to indulge in a quiet and laidback part of the Florida coast, known for its miles upon miles of beautiful, uncrowded beaches and champagne surf. But while the population may be sparse, don't let that lead you to believe that the dining options are, too. Because diving into an eating adventure is also one of the best parts of a getaway to this quiet coast.
WHAT ARE SOME OF THE BEST RESTAURANTS IN JENSEN BEACH?
At first, you won't have to wander far to find high-quality cuisine. The Lucie is home to two dining outlets, including the seaside pool bar serving up stone-fired flatbread, sandwiches, and salads. In the mornings, the cozy on-site café is the place for creative egg sandwiches and steel-cut oatmeal studded with dried fruits and fresh seasonal berries. But, of course, no one expects you to stay entirely on-site during your dining tour. From an Indian River-based restaurant formerly owned and frequented by Hollywood royalty to an oceanfront eatery that has uncanny access to Florida's best oysters, here are a few of the best dinner spots to dig in.
Laid-Back Casual Restaurants in Jensen Beach
Magic Oyster Bar & Seafood Grill
With a wall display of oyster shells from around the world, you can bet that this casual Hutchinson Island seafood eatery (located just across A1A from The Lucie) lives up to its name: magically securing and serving some of the best raw oysters from across the gulf, east, and west coasts of Florida. But that's not the only thing to ogle in this Key West-inspired venue: rough-hewn wood walls give you the impression you're inside the belly of a weathered (but worthy) sea vessel; oars, buoys, and other nautically-inspired touches accent the space; and an upside-down skiff hangs like a chandelier over the bar. Beyond the expansive oyster menu, you'll find dishes like horseradish-crusted grouper, stuffed shrimp, and mahi tacos.
Shuckers on the Beach
Who doesn't love a good thatched-roof tiki bar set right on the beach? You'll find such a scene on the sprawling outdoor deck of this upbeat Hutchinson Island hangout serving classic American surf and turf, everything from steaks and pasta to seafood cannelloni. When it comes to drinks, locals love Tony's Rum Bucket (named after the restaurant's original owner), a 32-ounce mixture of four Bacardi flavors, cranberry and pineapple juice, and served in a take-home bucket.
Mulligan's Beach House
You can't miss this brightly-hued pastel-colored building nestled along the Indian River in downtown Jensen Beach. But the cheery atmosphere doesn't end there: Inside, brightly colored walls, booths, faux palm trees, and nautical-themed décor stud the space. On the outside patios, expect a top-notch view of the river (or the community's weekly Jammin' Jensen street party if you're here on a Thursday night after 6 p.m.). As for the menu, the eatery is best known for what's called the "Monster Fish Fry" – a hulking flaky white fish expertly fried to a deep, golden brown and served atop a mountain of seasoned fries that few finish in one sitting.
Jensen Beach's Best Waterfront Fine Dining
Drift Kitchen + Bar
A sculpture-like driftwood tree stump serves as the host desk. Air plant terrariums and clay pendant lights reminiscent of coral delicately hang from the ceiling. Other atmospheric touches include shiplap walls, white oak floors, and natural moss wallcoverings. But as stunning as the coastal-inspired space of Drift Kitchen + Bar is, nothing beats the panoramic views of the Atlantic Ocean accessed via the floor-to-ceiling windows. In fact, the ocean is visible from every table in the restaurant, whether you're grabbing a quick bite at the Chef's Bar, eating al-fresco on the Ocean Verandah, or celebrating a special occasion in the private dining room.
Serving as the on-site signature restaurant at Hutchinson Shores Resort & Spa (a sibling Opal resort to The Lucie), Drift also dishes up an equally impressive menu: house-made pasta dishes, freshly-fired pizza, steak entrées, and, of course, plenty of seafood. And even better, you can witness many of these dishes being made right before your eyes, thanks to a bar-based pizza-making station (complete with a stone-oven hearth) and a glass-encased pasta-making studio where chefs crank out oodles of noodles from scratch.
Kyle G's Prime Seafood & Steaks
Located just next door to The Lucie, this roomy polished restaurant overlooking the ocean is a favorite place to celebrate special occasions among St. Lucie County locals. That's because of the high-end (and huge) menu that highlights not just amazing seafood, but a stellar steak program (owner Kyle Greene has an extensive steakhouse background). We're talking the freshest daily catches from local fishermen with the highest-quality raw bar and shellfish selections. As for the premium cuts of meat, examples include hand-cut filet mignon, 48-ounce Tomahawk ribeye, and Australian wagyu beef. Not to mention, the wine list reads like a robust encyclopedia of oenological delights with vintages and varietals from around the globe.
Dolphin Bar and Shrimp House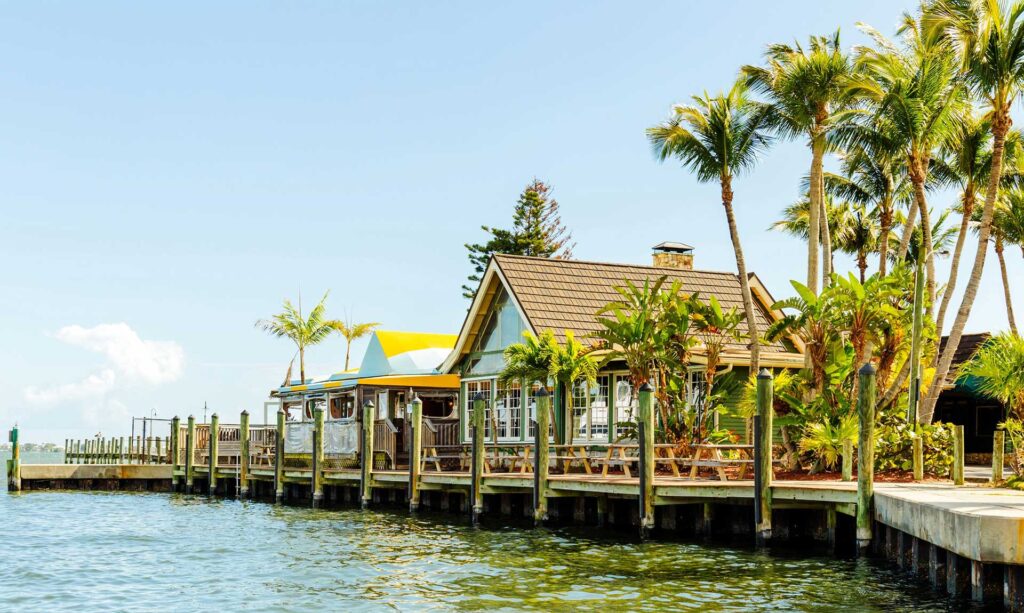 There are a few things that make this open and airy tropically-inspired restaurant so special. For one, it cantilevers over the Indian River on mainland Jensen Beach for spectacular views that span from the Stuart Causeway all the way up to the Causeway Bridge. Two, the seafood-focused menu hinges around a signature favorite: The Dolphin a la Dolphin, a fresh filet of dolphinfish (a type of mahi-mahi) sauteed in flour and egg and flavored with dry white wine, butter, lemon, capers, and fresh herb. And three? It was originally built and founded by 1930s and '40s movie star Frances Langford, therefore, was once a regular hangout for Hollywood royalty, including Jackie Gleason and Bob Hope. The proof is in the wall-to-wall memorabilia.
Jensen Beach Bars with Live Music & Entertainment
Conchy Joe's Seafood
Not only does this quirky riverfront haunt specializing in Bahamian-style seafood offer live music Thursdays through Sunday, there are also other forms of entertainment including Musical Bingo (Mondays), Trivia (Tuesdays), and Hermit Crab Racing (Wednesdays). Yes, you read that last one correctly: A Bahamian tradition and a favorite among kids, hermit crab racing involves placing the shelled creatures in the center of a circle, where the first one to wander outside of the lines is the winner – and so, too, is the lucky patron who bet on the critter.
Tako Tiki
The authentic street tacos – starring house-made corn and flour tortillas – taste even better when accompanied with live music played on the stage of this open-air tiki-styled setting four nights a week. Certified an "Ocean Friendly Restaurant" – the only one on the Treasure Coast – the eatery also only uses natural and compostable items, from palm leaf plates to paper straws.
Crawdaddy's N'awlins Grill & Raw Bar
It feels like you could be on Frenchman's Street in New Orleans. That's because this restaurant boasts a lush courtyard featuring a cobblestone patio, bistro string lighting, and the kind of live music you'd associate with The Big Easy (think jazz, blues, and dueling pianos). The Cajun-Creole fare doesn't hurt either. A few favorites: pork chops with bourbon peaches, clam chowder, gumbo, jambalaya, and crawfish etouffee.